5 days / 4 nights
1 st day Sunday
Western bank in Luxor
Departure to Luxor early in the morning! Upon arrival in Luxor - the beginning of the excursion program. The two-day sightseeing program in Luxor consists of 2 parts - the East Bank and the West Bank. On the West Bank, you will see the Colossi of Memnon (2 huge statues of Amenhotep III - all that remains of a magnificent temple), visit the Valley of the Kings - the pharaoh's centuries-old tomb, see the burial temple of the famous Queen Hatshepsut - the only female pharaoh, visit the house of artists. After the excursions the bus will take you to the ship, accommodation in cabins, lunch. Then you will have free time and dinner on the ship
2nd day Monday
Eastern bank of Luxor
You are heading to the East Bank, where you can visit the Temple of Karnak, the most grandiose ancient Egyptian temple. After the excursion you are going to a perfume factory (they will tell you about the method of making oils and perfumes that the ancient Egyptians used and for what purposes, many types of them were found in the temples). After that, you will have lunch on the ship! After lunch, sail the ship, you have free time. You can swim in the pool and sunbathe, or you can just enjoy the views of the Nile shores. If you are lucky (everything will depend on the schedule of navigation of your ship), you can see the passage of the ship through the locks near the city of Esna. After dinner, you can go to the bar and dance in the disco for a bit.
3rd day Tuesday
Edfu temple / Komombo temple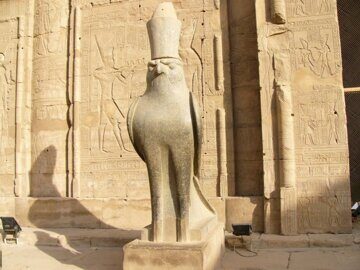 After breakfast, visit the "Edfu" temple to the main treasure of this town - the grandiose temple of Horus - the most preserved monument of ancient Egyptian architecture. After returning to the ship you have free time and sailing the ship! On the same day for lunch you sail to Kom-ombo! After lunch you will have an excursion to one of the most amazing temples of Egypt - the temple of Kom-Ombo. Its uniqueness is that in this temple there are 2 sanctuaries - one is dedicated to Horus (the falcon-god), the other is Sobek (the crocodile-god). By the way, from the terrace of the temple offers a wonderful view of the Nile - I recommend taking photos for memory !!! After the excursion you return to the ship, where dinner and folklore show are waiting for you!
4th day Wednesday
Aswan
- And now, finally, in the morning you sail to the city of Aswan - the final point of your cruise. After breakfast you go by bus to visit; The Aswan Dam (which was built with the help of the Soviet Union) and the reservoir of Egypt and you will see a huge monument of friendship between Egypt and the Soviet Union, in the form of a huge lotus of marble! Upon returning to the ship, you will have lunch. In the evening, explore the city - in my opinion - the most beautiful city of Egypt. On the one hand - the hot sands of the Libyan desert, on the other - the green groves of gardens, and these completely different landscapes of the blue Nile unite. You can also visit the papyrus gallery, where artists show how the ancient Egyptians made papyrus in ancient Egypt. Visit the Philae temple - the temple complex on the island of Fila, dedicated to Goddess Isis. Highly
romantic place. Even Emperor Traian could not resist the beauty of this island and ordered to build himself a small pavilion for recreation, which, in truth, did not have time to enjoy fully. Take your time - visit this wonderful complex!
5th day Thursday
Aswan and travel to Hurghada
City tour in Aswan and return to Hurghada